DEAN-ip on 19 March 2020 / 20 March 2020
春分 (Chūnfēn) spring frontier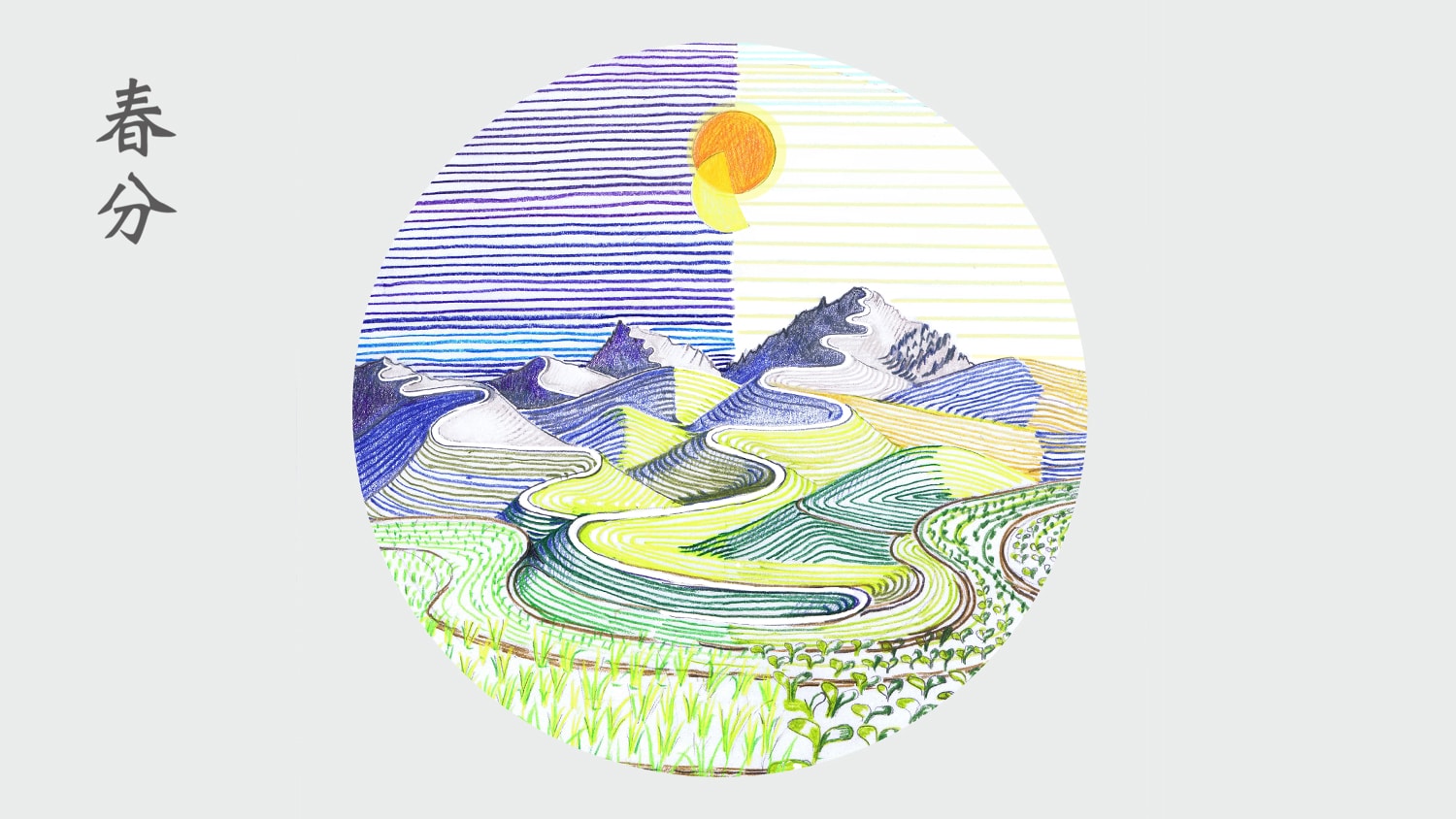 Topic: "Time of balance in Spring"
Chūnfēn - Time of Balance
Chūnfēn, 春分, is the fourth solarterm of the year. Literally translated, this name means "spring frontier".
"This time is the border and balance between winter and spring."
Master Dean Li
From the nature of things, a change is now taking place: Before this time winter was still prevailing, according to Chūnfēn spring is already slowly beginning, the Yang energy then gradually increases. 
Chūnfēn establishes a state of balance. Day and night are of equal length. We experience such a balance only twice a year. These are always turning points and very important times for a balance.
Ip always refers to the natural time periods, the solar terms. When we join forces and practice together in ip across national borders, we use their energy qualities. In the same way, ip is also always connected with "the whole of life", that is, the present time with its current events.
"Ip has to do with this time. Because the solarterms give us a very good
energy to get into natural movement.
Why do we adapt to nature?
Now, this year, for example, we have to deal with the virus. 
In the next years, even further, further, further, 
something else will come. Then we work with that. 
We adapt to nature so that we can always find the appropriate balance
at the right time to whatever is happening."
Master Dean Li
At this time the epidemic is no longer limited to China, it is now all over the world. This shows once again that all people are connected. 
In China there is a proverb: "同气连枝,共盼春来", Tóng qì lián zhī, gòng pàn chūnlái. 
"Tóng qì" means as much as: People have the same qi, it's the same all over the world, with all people.
"Lián zhī" means about: The branches join together. We humans, for example, connect "from hand to hand". Trees, one can say, connect in a similar way "from branch to branch". The meaning is that we are united by energy.
"Gòng pàn chūnlái": The spring energy gives us all hope equally. Like the trees, it gives us strength and we can connect with it.
Now at this time, also in relation to the virus, there are opportunities to join together to build up strength and thus make good use of the energy. By building strength together we become more resistant. Alone we are weaker and may become afraid.
" 'Strong' means what? Strong means 'together'.
That is why we should take this chance and do the exercise together.
If we all practice together now with the power of nature,
we will be strong and not afraid of the virus."
Master Dean Li
Chūnfēn gives us the chance and hope to create a great balance.
Due to the special situation, Xiaobao and Yang have so far conducted over 30 live talks in a public radio app with Master Dean Li.  These talks, mostly in Chinese and partly in English and German, take place from time to time in the Chinese radio app "Ximalaya". Master Li would like to give all people, who are interested, the opportunity to ask him questions.[1] These conversations are open to all who are interested. You are very welcome! If you are interested, you are welcome to contact Nicola or Tasso, for example.  
Possibly not all interested German participants will find immediately access to the Chinese app. Therefore, it was our first concern to write down the conversations, some of which were held in English, so that everyone can take part. In the "exchange forum" of the member area you can find them under "Questions and answers". You also have the possibility to ask questions yourself.
If you do not yet have access data for the member area, or if there are problems with the registration, please contact Danny via mail or WhatsApp (and other messengers +49 179 9026217).
You can find the link to the recordings of the previous live talks here:
Possibility to practice together in Hamburg
There are different possibilities to practice together at DEAN-ip. For this you can contact the responsible person until 18.03.2020 at 12 o'clock. You can practice the whole time or only a part of it. Just enter your desired times.
DEAN healing practice
Bahrenfelder Kirchenweg 53, 22761 Hamburg

up to 10 registered participants
on 19.03. from 6:00 p.m. 9:00 p.m.
Contact Birgit Baltzer:
Phone: 0177 – 9173859
birgit.baltzer@gmx.de
SMS or e-mail
Space for encounter & movement
Birkenallee 6, 25469 Halstenbek

up to 10 registered participants
on 20.03.2020, from 3:00 p.m. – 4:30 p.m.
Contact Elke Wohlert:
Phone: 0173 – 2426048 or 04101 – 402438
WhatsApp, SMS or Phone
[1] For example, these could be questions about ip, general or personal topics.
Special note: Live streaming is a public platform, please be aware that all questions and answers are open to the public. Anyone can participate and listen, some broadcasts are saved and questions are transcribed and published so that more friends can listen and participate.↩