DEAN-ip on 18 Feb 2020 / 19 Feb 2020
雨水 (Yǔshuǐ) Rain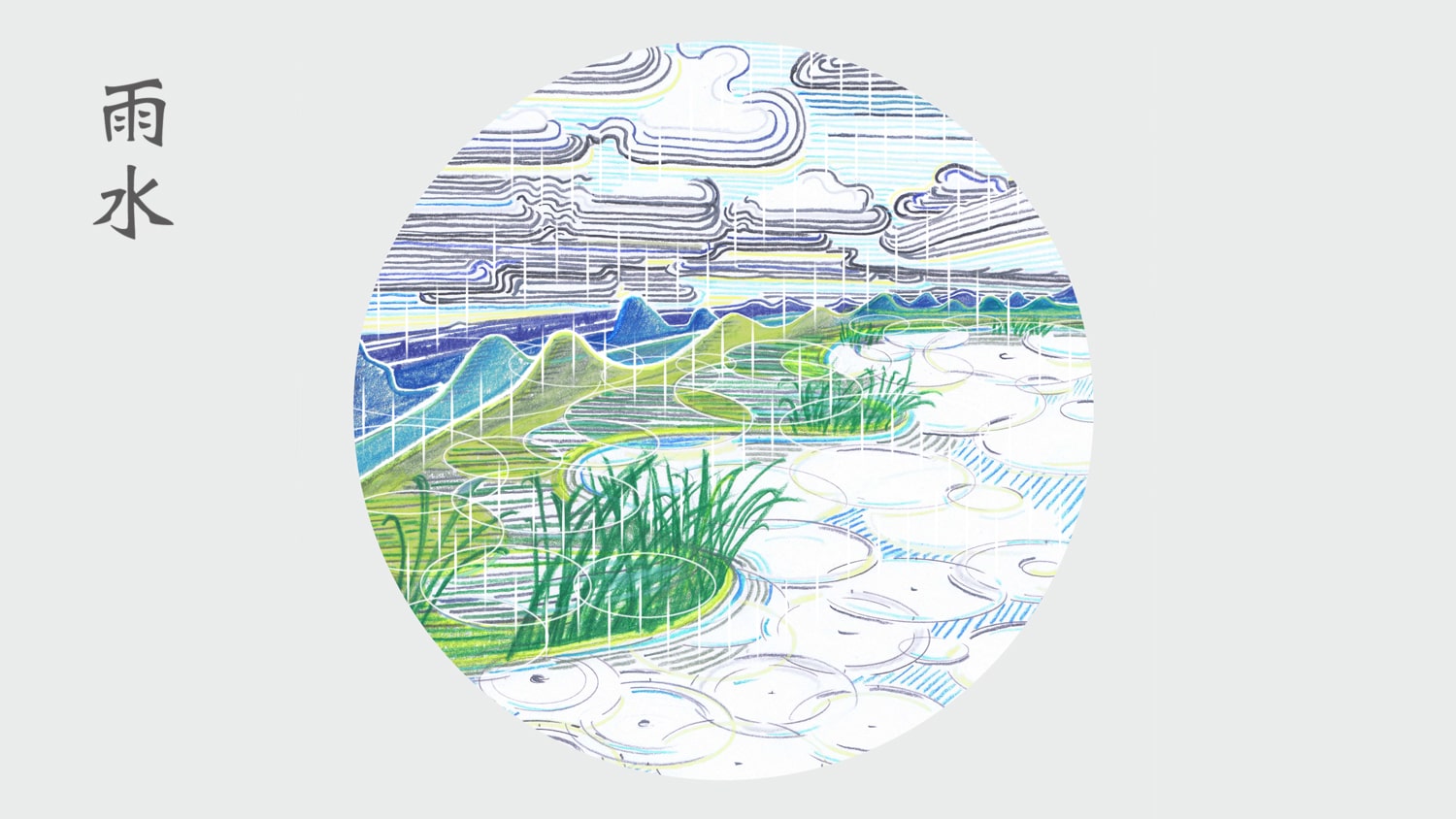 Topic: "Healing from Heaven"
Yǔ shuǐ - Rainwater in spring
Yǔ shuǐ, 雨水, is the second solar term of the year. This name means "rainwater". 
There are different forms in which water plays a role on earth, for example as water that rises from the depths of the earth. Yǔ shuǐ is about the water that comes to us from the sky. Usually something that comes directly from heaven is very pure and clean. So you could even drink the clear rainwater well. But because of the polluted air there is a disturbance.
"Yǔ shuǐ is a very pure energy,
a pure feminine energy. Shuǐ is female. water.
Yǔ shuǐ is really very positive.
Only if problems are added by air, Yǔ shuǐ cannot come directly to me.
Because it always comes through the air.
If the air is clean, then Yǔ shuǐ is clean.
Yǔ shuǐ is a really beautiful energy."
Master Dean Li
In nature, spring is the season of growth and beginning life. It belongs to the element wood. Every wood, every plant needs water to grow well. Water is so precious. Extensive and gentle rain can awaken full vitality in spring. So it's always about Yin and Yang…
Experience harmony and healing
Unfortunately, a new coronavirus pneumonia has currently broken out in China. This seems to remind people that 2020 will be a challenging year. Fortunately, we can use the German-Chinese exercise and our FuQi to connect and build strength together. Without fear of spacial barriers, we can unite, grow together and face the time of the epidemic together. During this time a lot of confusion has been caused by the virus. As a result our energy is out of balance, the compensation is disturbed.
"Yǔ shuǐ is something that comes from heaven to help us.
Of course we have to develop our feeling for it,
to build up this energy and use it for our growth.
So energy can come back into harmony
and regulate this mess.
The disease is caused by a disruption in harmony.
And of course the power comes from heaven and helps us,
to find the balance weight again.
That's healing."

Master Dean Li
If we do our exercise well, if we connect through this power with Yǔ shuǐ, then it means a good healing. Yǔ shuǐ slowly brings back harmony. Of course this is the time when we can seize an opportunity. Our spirit, our energy must unite with it. Therefore we do ip-exercise. When heaven offers something good, like 'Yǔ shuǐ', it is worth taking this opportunity to connect with it.
"When we apply international practice, practice together,
then I'll help you.
You'll be linked to that energy,
because the spirit is connected to it.
Heaven always gives a chance. But, of course, people have to connect
with it. If you can do that, then do it.
Otherwise, I'll help you during ip."
Master Dean Li
Many romantic stories are related to the rain and are associated with it.
"Yǔ shuǐ is so romantic. A lot of love is connected to Yǔ shuǐ."
Master Dean Li
People feel these connections at Yǔ shuǐ: the encounter of tenderness and fresh power, of simultaneous joy and sadness, of Yin and Yang. Some poets express this in their texts. They associate springtime with rain, the sky reveals to them sadness and speaks of nostalgia. People associate many romantic feelings with it.
Rain Butterfly, Yu Die, 雨蝶
Do not blame someone, who loves so much, until his heart is broken
it's only because the encounter is so beautiful.
Even though I shed all my tears
I am very sad and my heart turns to ashes
it doesn't matter to me.
I strip away the cocoon to be a butterfly
ready to fly with you.
I'm afraid you're never coming back.
Your love, your devotion and your desire to love me
are a great comfort to me.
I fly to you
rain, soft fall
as if your embraces were surrounding me.
I fly so far to you
never tired
despite the pain and tears along the way.
I chase after you
the wind blows gently
As long as you don't regret anything,
I have no regrets.
Love is so beautiful
my heart is intoxicated
the feeling of being loved.
(Text: Xu Changde, Qiong Yao)
The registration for DEAN-ip February was possible until 17.02.2020 at 3 p.m. with the following link (shorter registration time). If you have problems with the registration, please contact us at team@dean-ip.de or by phone: 0151-70173457.
Please transfer your amount (55 € per day incl. VAT) before the start of DEAN-ip. You will find all further information on the website and in your registration confirmation.
Possibility to practice together in Hamburg
There are different possibilities to practice together at DEAN-ip. For this you can contact the responsible person until 17.02.2020 at 12 o'clock. You can practice the whole time or only a part of it. Just enter your desired times.
Space for encounter & movement
Birkenallee 6, 25469 Halstenbek

up to 10 registered participants
on 19.01.2020, from 3:00 p.m. – 4:30 p.m.
Contact Elke Wohlert:
Phone: 0173 – 2426048 or 04101 – 402438
WhatsApp, SMS or Phone
DEAN healing practice
Bahrenfelder Kirchenweg 53, 22761 Hamburg

up to 10 registered participants
on 18.02. from 6:00 p.m. 21:00 p.m.
Contact Birgit Baltzer:
Phone: 0177 – 9173859
birgit.baltzer@gmx.de
SMS or e-mail